ATS60
Moisture analyzers (series ATS)
3,100.00 zł
Save 50.00 zł
Tax excluded
halogen radiators
graphical display
text menu
drying chart displaying
drying profiles
USB, RS232C and PS2 interface
Security policy
Shipping rules
(contact dealer in your area)
Moisture analyzers of ATS series are used for quick and precise determination of material humidity upon the basis of weight loss during drying of its small sample (thermo-gravimetrical method). Halogen radiators ensure efective sample drying. ATS functioning is based on laboratory scale mechanism.   

Time, temperature and drying profile (course) can be adapted to examinated material features. To simplify drying parameters choice, initial drying can be done with graph result.
The RS232C connection permits to connect a printer or a computer in order to print receipts, raports or further processing weighing results. The printed raports enable fulfilment of GLP recommendation.

Temperature correction (option):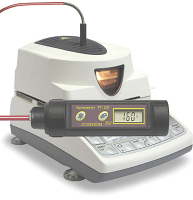 Special functions:
- 4 drying profiles: standard, slow, step and fast
- 20 drying settings memory


Capacity (Max)

60g

Reading unit (d)

1mg

Interfaces

RS232C, PS2, USB

Working temperature

+18÷33ºC

Weighing time

under 8s

Dimensions

185x290x170mm

Power supply

~230V 50Hz 230VA

Balance weight

3,9kg

Weighing chamber dimensions

ø108x20mm

Pan size

ø90mm

Humidity measurement repeatability

+/- 0,1%(próbka 2g) +/- 0,04%(próbka 5g)

Humidity readout precision

1% (sample 0,02÷0,5g) | 0,1% (sample 0,5÷5g) | 0,01% (sample <5g)

Drying temperature

160ºC

Sampling time

1-180s

Max drying time

10h

Chamber heating time up to 100°C

about 3min.