FSC50
Torque measurement (series FSC)
torque measurement in both directions
high speed of measurement - up to 1000 samples per second
peak mode
storing measurement results into memory or microSD card
USB and RS232C serial interface
statistics, graphs, comparing to thresholds function
Security policy
Shipping rules
(contact dealer in your area)
FSC series torque testers are designed to control/test tension wrenches. It is possible to register maximal torque or real-time registering of changing torque.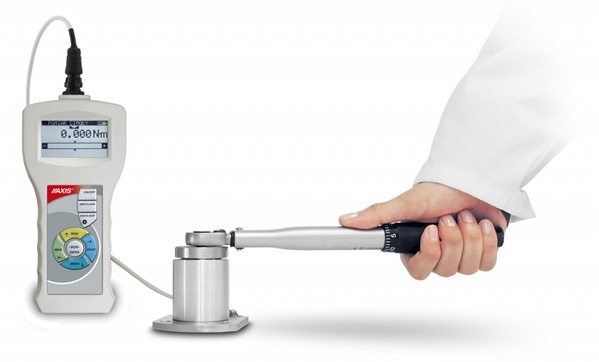 Measurement head is mounted to control desk and the controled tension wrench is fitted to 1/4'' hole (FSC2, FSC5, FSC10) or 3/8" hole (FSC100) situated on the measurement head.

Measurement head in FSC500 model doesn't have adapter for tension wrench. FSC500 set is equipped only with force sensor.
Special functions:
- peak value measurement
- threshold comparision
- statistics
- measurement unit selection


Capacity (Max)

50Nm

Reading unit (d)

0,1Nm

Interfaces

RS232C, USB, option: transoptor out (threshold function)

Working temperature

0 ÷ +40°C

Dimensions

Ø75/Ø90 (measuring head)

Power supply

supply ~230V 50Hz / 12V; 1,2A ; accumulator supply 4xAA

Accuracy

±0,5% F.S.

Maximal overload

50% measurement range

Display

LCD graphical

Balance weight

1,5kg (sensor) + 600g (meter)

Wrench size

no adapter